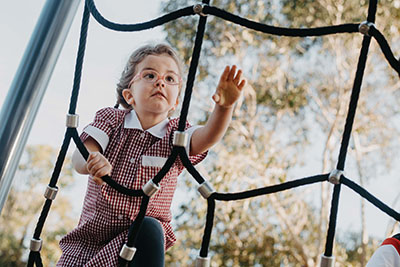 The first day at school
The first day at school can be scary. For a child who's blind or has low vision, it can be downright dangerous.
Many of our schools just aren't designed for children who are blind or have low vision.
Meet Scarlett, a smart, fun-loving five-year-old. She's been buzzing with excitement this year because she's finally starting big school.
It's a huge step for Scarlett and her parents. And it poses a number of risks due to her low vision.
In her new school, hallways are often full of tripping hazards, coat hooks were hung at eye level and sharp, concrete steps had no yellow markings to make them more visible.
Schools like Scarlett's do all they can to keep their students safe, but they simply don't have the resources to provide specialised training to identify risks, or provide support for children who are blind or have low vision to help keep them safe.
Will you make a donation today to help fund specialised safety assessments, and make sure a child just like Scarlett isn't walking into danger?
Because of donations like yours Cath, an Orientation and Mobility Specialist was able to visit Scarlett's school before the first day of term, and worked with staff to make sure it was safer for Scarlett.
Cath also walked around the school grounds with Scarlett, teaching her how to get to her classroom and highlighted the hazards along the way.
That session alone helped to build Scarlett's confidence and made her first day at school a lot less scary.
But right now, many children are missing out on specialised support like this.
Will you please make a donation today to keep another child like Scarlett safe?