14 August 2020
Are you a parent of a school age student who is blind or has low vision? Have you had to advocate for your child to get the same benefits from the education system as their sighted peers? Were you aware of the Disability Discrimination Act and the Disability Standards for Education?
Register for our Stand Up for Your Rights: Equity in School Education webinar to hear about the review of the Disability Standards for education and provide your feedback on what can be improved.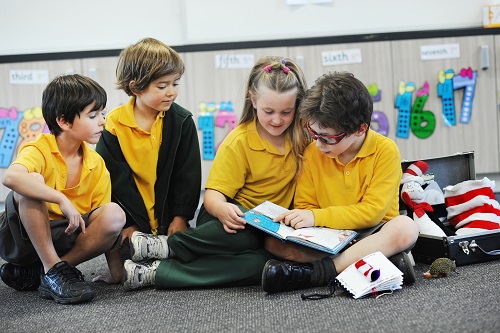 Caption: Vision Australia client Jack reads a Feelix Library book with three classmates
We are honoured to welcome the Disability Discrimination Commissioner, Dr. Ben Gauntlett, together with the parent of an eight-year-old braille user, and an experienced special education teacher and lecturer to our panel to provide their perspectives.
We especially want to hear your questions and experiences to help us to contribute to the review of the Standard. You will also be able to ask questions and provide your feedback live during the webinar.
In this webinar, we will:
Provide an over view of the Disability Discrimination Act 1992 and the complaints process
Look at what is covered in the Disability Standards for Education and hear about the government's review of the Standard
Hear from both the parent and the Vision Education Specialist on our panel about how effective the standards have been for the education of students who are blind or have low vision
Hear experiences and questions from the audience to help increase the currency of our knowledge and to contribute to our submission on the review of the Standard
Provide information about resources that can help you in advocating for yourself or your child.
Webinar details
When: Wednesday, 9 September 2020
Time: 6.30pm -8pm AEST
Cost: Free (your own data or call charges will apply)
Registration: Book your place today.
Meet our Panelists
Ben Gauntlett
Ben Gauntlett commenced his term as Disability Discrimination Commissioner at the Australian Human Rights Commission on May 7, 2019.
As Disability Discrimination Commissioner, Ben has presented to the United Nations Committee on the Rights of Persons with Disabilities in Geneva, presented at the United Nations Conference of State Parties in New York and was a witness before the Royal Commission into Aged Care Quality and Safety.
Ben is a quadriplegic following a schoolboy rugby union accident aged 16 in Perth, Western Australia. He has the experience of a person living with a disability and accessing care in Australia (Western Australia, Victoria, New South Wales and the Australian Capital Territory), the United Kingdom and the United States of America. Prior to being appointed as Disability Discrimination Commissioner, Ben worked as a barrister in Western Australia and Victoria with a broad ranging practice.
He has also worked as an associate to the Honourable Justice Kenneth Hayne AC at the High Court of Australia, as Counsel Assisting the Solicitor-General of the Commonwealth and taught law in Australia and the United Kingdom.
Ben holds undergraduate degrees in Law (Hons) and Commerce from the University of Western Australia, and was awarded the Rhodes Scholarship for Western Australia in 2003. He also holds a Master of Laws from New York University and a D.Phil. in Law from the University of Oxford.
Lesleigh Butler
Lesleigh Butler is a mother to two primary aged children. Her youngest child is legally blind because of a congenital eye condition. Lesleigh holds an undergraduate degree in law from the University of Queensland, and has nearly 20 years of experience in legal practice in NSW, with a focus on advocacy.
In recent years, Lesleigh has used her legal skills to assist the Advocacy team at Vision Australia in their work to make positive changes for those who are blind or have low vision.
Lesleigh is passionate about decreasing societal barriers so that people who are blind or have low vision have more equitable access to education and employment.
Melissa Fanshawe
Melissa Fanshawe is a lecturer in the School of Education at University of Southern Queensland. She has over 20 years' experience within Queensland schools as a teacher, advisory teacher, principal and deputy principal.
Melissa has worked with students who are blind or have low vision since 2002, gaining her Masters at the Royal Institute for Deaf and Blind Children. She is currently completing her PhD in the field of Vision Impairment and enjoys her volunteer roles for Vision Australia, Vice-President for SPEVI and the Queensland convenor for the Australian Braille Authority.
Melissa is passionate about teaching students who are blind or have low vision the skills to be able to independently access education.
Looking for more information and resources around educating children who are blind or have low vision? Check out our free resource list, which has an emphasis on remote learning during COVID-19.